Hypnosis Certification (National Guild of Hypnotists)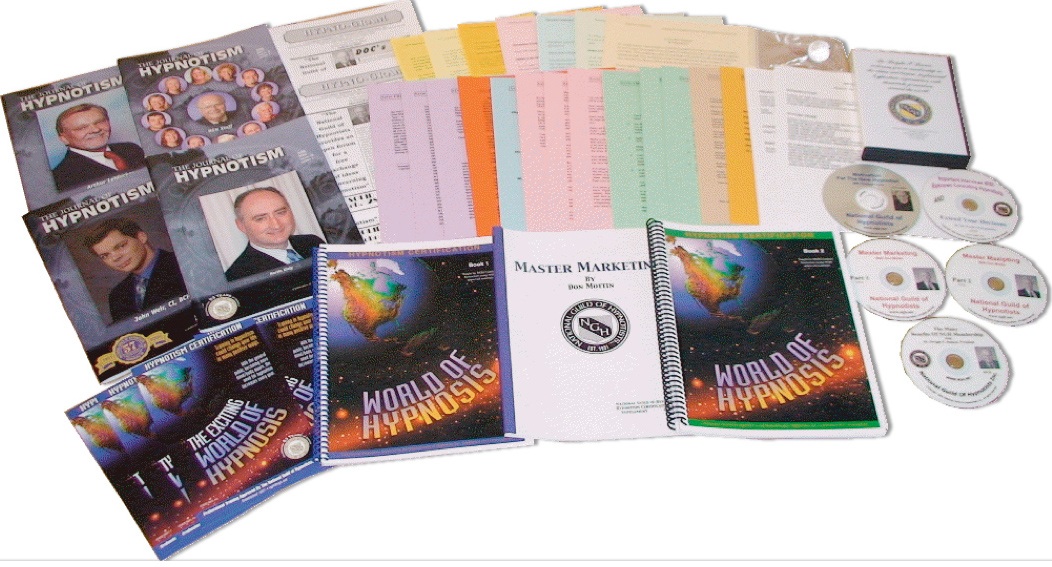 The 100-hour basic NGH certification course gives you everything you need to begin a career as a competent and confident hypnotist, and is an internationally recognized qualification. The course is offered in a modular format to suit your scheduling needs - you can either do each module individually, completing training on your own timetable, or you can take all three modules together over several weekends. You must complete all three modules in order to become certified by the National Guild of Hypnotists. Module 3 includes work with actual clients so you can practice your skills in a real-world situation. The course is experiential so you will gain hands-on experience in hypnotizing others, being hypnotized, and self-hypnosis.
You may choose to take Modules 1 and/or 2 purely for self-growth or professional development purposes, without NGH certification (although you will receive a certificate of completion from Positive Spiral Hypnosis for each module completed). The cost of NGH certification, if the three modules are purchased separately is $2200 plus $175 NGH materials fee. If purchased as a whole, the price is $2175 inclusive.
In addition to the NGH certification course content, you will also learn how to work with clients. This includes how to create rapport, the importance of language, how to do an intake interview, clarifying goals with your client, resourcing your client, Ericksonian techniques using metaphor and story for transformation, and applying the client-centered organizing idea of emotional needs and innate resources that comes from the Human Givens Therapy approach. We will explore the rewards and challenges of working online, and learn how to record professional sounding audio and video.
Hypnotism is a rewarding career, and hypnosis can be effectively combined with other health, wellness or motivational practices e.g. massage therapy, dentistry or medicine, yoga, acupuncture, chiropractic, life, health or sports coaching, or psychotherapy. If you think it may be for you, please call me to discuss training: 919-636-2781 or email info@positivespiral.net
NEW STRUCTURE OF CERTIFICATION COURSE Summer/Fall 2020
I will be on sabbatical in Scotland from August through November, 2020, so after teaching Module 1 in person, for Module 2 students will continue to meet in my office, and work on exercises together, while I teach and observe via Zoom. Module 3 will be in-person again in November/December. Dates to be agreed to suit students.
Module 1 (Days 1 & 2): Weekend of July 25/26, 2020
Module 2 (Days 3, 4, 5 & 6): Online training, plus group work in-person at my office.
Module 3 (Days 7, 8, 9 and 10): In-person in November/December.
​
Module 1: Foundations of Hypnosis $400
Two days: 16 hours in class.
For Certificate students only: 2 hours of homework, 2 hours pre-class prep
Upcoming Module 1 dates: July 25 & 26, 2020
This module provides an understanding of hypnosis, and the applications of hypnosis, through a combination of didactic teaching and experiential learning. Learn self-hypnosis, how to hypnotize others, suggestibility tests, inductions, deepeners, how to formulate suggestions, ideomotor signalling, and how to emerge from hypnosis.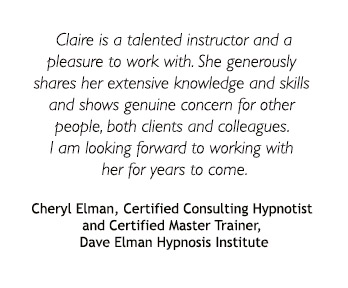 Topics:
What is hypnosis and what do we know about how it works?
What hypnotists need to know about the brain
Common misconceptions and how to explain hypnosis to others
Overview of the history of hypnosis
Imagination and suggestibility
Formulating suggestions
The hypnotic environment and aids to hypnosis
Three steps of self-hypnosis
How to hypnotize, and the stages of hypnosis
Applications of hypnosis
Module 2: Mastering Hypnosis $900 + $175*
*NGH materials fee. Four days: 34 hours in class, 16 hours of homework
*Kit includes two training manuals, pendulum, scripts, DVS and videos, books on hypnosis and marketing. Fee also includes exam, certificates, and 1-year membership in NGH, upon completion of Module 3.
In this module we build on the foundations and begin to integrate and expand on the knowledge, skills, and techniques of hypnosis, as well as looking at specific strategies and programs for smoking cessation, weight management, and pain management. You will learn various induction and deepening methods, post-hypnotic suggestions, convincers, and visualization and guided imagery techniques. You will also learn how to help your clients set goals, and how to develop your intuition and empathy as a hypnotist by using awareness of non-verbal communication to create rapport. This module also includes an introduction to NLP (neurolinguistic programming), and an introduction to energy work, heart-centered techniques, and muscle testing.
Topics:
The hypnotic formula: components of hypnosis
Inductions and deepening techniques
Depth testing and the Elman Induction
Using convincers
Emergence methods
Suggestions: direct, indirect, and post-hypnotic
Overview of the "Human Givens": emotional needs and innate resources
How to create rapport, interview and assess clients
Goal setting
Guided imagery, storytelling and metaphor
Working with children and adolescents
Introduction to non-verbal communication (body language)
Introduction to NLP, including Fast Phobia Cure (Rewind) and Circle of Excellence
Introduction to energy work and muscle testing
Heart-centered techniques
From Stressed to Best™: customized stress management
Anesthesia and pain techniques
Smoking cessation and weight management
Fears and phobias
Ethics
Module 3: Becoming a Professional $900
Four days: 32 hours in class, 16-20 hours of homework
This module will prepare you to be a competent professional hypnotist. You will learn advanced techniques such as age regression and progression, an overview of the different types of parts therapy, NLP techniques, assessing your client's personality, issues with transference and countertransference, teaching self-hypnosis, how to start a successful hypnosis practice, self-confidence, and self-care for the new practitioner. This module culminates in the NGH Hypnotist Certification Exam, followed by graduation and award of certificates for successful candidates. Candidates who do not pass the exam the first time will do one-on-one remedial work with Claire.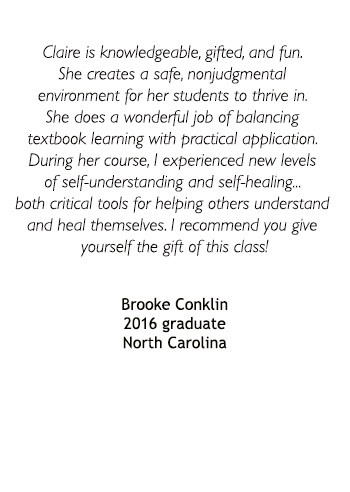 Topics:

Session structure
How to teach self-hypnosis
Working with groups and running workshops
Working with people who have anxiety and depression
Introduction to different types of parts therapy
Introduction to regression/progression techniques
Energy psychology: introduction to the chakras, meridians, EFT, and AIT.
Working in the Esdaile State and beyond: an introduction to hypnotic coma work
NLP Techniques
What your client brings to the session
Experiential work with real clients
Introduction to medical and dental hypnosis, and working with medical/dental professionals
Self care and self confidence for the hypnotist
Starting your hypnosis practice: marketing, working online
Making mp3 recordings for clients using Audacity
NGH Hypnotist Examination
Module 4 (postgraduate): Advanced Hypnosis Techniques $500
Two days: 16 hours in class, 4 hours of homework
This module, for certified hypnotists, covers advanced parts therapy, regression techniques, and hypnotic coma work.
Topics:

A brief history of parts therapy
Gestalt chair work
Introduction to Internal Family Systems Theory and Transactional Analysis
Parts balancing walk
Using conference table imagery
Advanced regression techniques: regression to cause, informed child technique, alchemical hypnosis, inner healer, affect bridge
Integrating parts therapy and regression techniques
Working in the Esdaile State and beyond: an overview and demonstration of hypnotic coma states: the Simpson Protocol and Ultra Height
(Note that this module does not teach these proprietory protocols - certification in these protocols, if desired, would be taught by appropriate schools or hypnotists e.g. Ines Simpson, Omni Hypnosis Training Institute).


25-Hour Internship $1000
This internship is intended for hypnotists who are already certified and would like to build confidence and skills. The internship is typically spread over a number of days, with timing to be arranged to suit the individual. The internship includes observation of Claire working with clients, debriefing after client sessions and discussion of how to proceed, direct work with clients with supervision by Claire, including intake interviews, developing a treatment plan, and subsequent implementation of the treatment plan. The internship also includes case studies, two one-hour sessions with Claire to address personal issues, and self-confidence techniques.
Structure of internship:

Observation of Claire working with clients (3 hours)
Direct work with clients (3 clients, 3 hours each = 9 hours)
Debriefing, treatment plans (2 hours)
Two sessions with Claire to work on personal issues (2 hours)
Self-confidence building, issues relating to hypnosis practice/business (4 hours)
Case studies (5 hours, homework)